Stuff for Michele's PMP® Students
Hi everyone. Hope you're all well and your projects are fun and exciting.

Here are some comments, notes, insights ... well, only three right now until I get a chance to add more in between my project work.

I'm sure that ideas and additions for stuff for this page will be appreciated by all. You can email them to me or just say hi at michele@quality-computing.com.

Why is Earned Value so Tricky?
Whats a PMP?
Quality Processes Example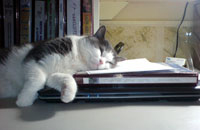 Take care,





Michele J. Jones, PMP
(905) 826-0662



The staff is laying down on the job!
What were those motivational techniques?

For Michele's students, to join the
group, click this link: PMP Students group.