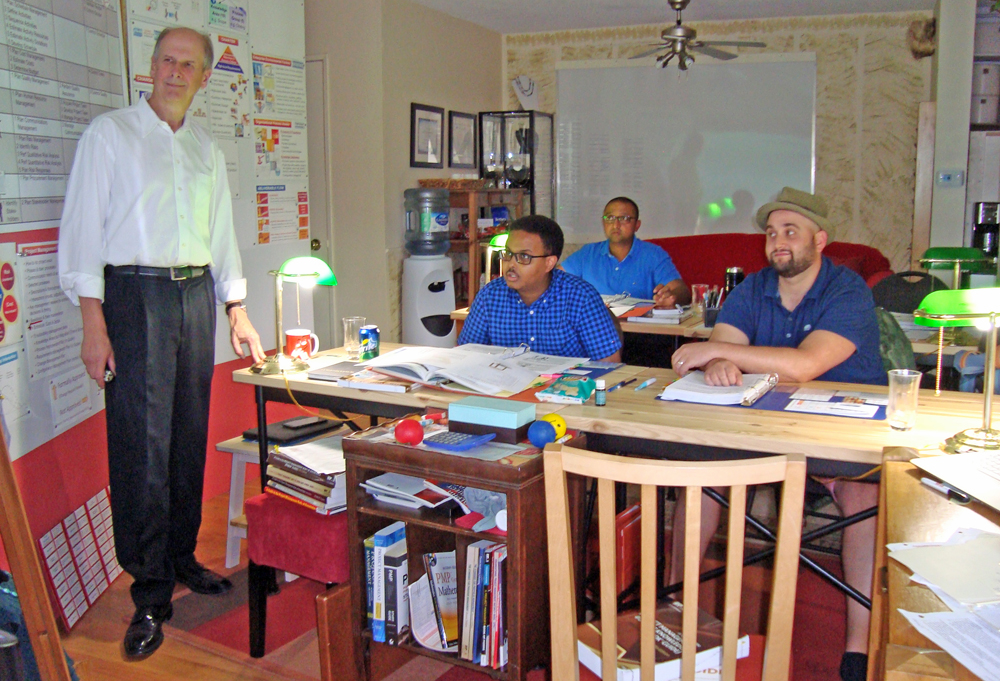 Relaxing Teaching Environment
Welcome to our comfortable classroom. Students have pine-top desks with lamps. Under each desk is a power bar for any electronics they wish to bring with USB outlets, as well as benches for lots of desk space.
Windows open in the nice weather with lots of natural light; shoes are optional.
Our office is professionally cleaned, safety inspected and insured.
If you smoke, you can step a few feet out on the balcony with a great view (our office is non-smoking).
Students sometimes move to the back couch for a change of positions during the day.
Coffee, tea or snack - conveniently at the back - no need to wait for breaks.
The student fridge has cream and milk and other surprises like pops, juices, cheeses, fruit cups & mini chocolate bars.
During lunch or breaks, if weather permits, you can enjoy the sun on the balcony, take a 5-minute walk to our little lake, or a 5-minute drive to Meadowvale Town Centre Mall.
Mississauga transit is just outside the door, the Go Bus is a 10 minute walk or the Go Train is four bus stops on the GO shuttle during rush hour from our front door.
Feel free to bring your laptop, etc. Hi-speed Wi-Fi is available.
We don't forget little touches ... highlighters, post-it tabs, real mugs for your all-day coffee/specialty tea, and real cutlery with supplied lunch and snacks - comforts of home.
We love and respect cultural diversity. One class of 4 knew 11 different languages! We accommodate special diets, too.
Just relax and learn.